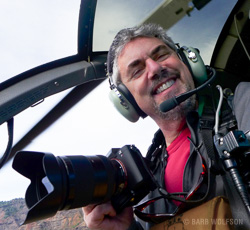 "My goal is to convey something meaningful to the viewer with my camera, not just document a scene. This is my standard for a successful image"
"I am just as passionate about teaching photography as creating my artwork. I love working with people to break creative and technical barriers and the reward they feel when creating images they didn't think were possible."
– Joel Wolfson, Photographer
---
Joel is an internationally published photographer that loves teaching as much as shooting. He shares his 35 years of experience as a working pro with other photographers by way of his workshops, 1 on 1 training, webinars, articles, blog and speaking engagements. His articles have been translated for use in more than 30 countries yet he is best known for his artistic images of fleeting moments and unexpected views of everyday places around the globe. He is an Arizona Highways instructor/photographer and works with great affiliates like Think Tank, Topaz Labs, ON1, Skylum and others to have more avenues for working with those wanting to pursue their love of photography. His goal is to make learning and improving one's photography easy, fun and rewarding.
His roster of notable clients include Newsweek, Elle, Seventeen, Houghton Mifflin, Family Circle, and corporate clients such as AT&T, 3M, United Airlines, Chase and Pillsbury. He is one of the pioneers of digital photography. He has presented at national conferences, written articles for global publication, and conducted digital photography seminars for Apple and other corporations starting in the early 90s.
While he has successfully worked in a wide array of photographic projects around the world, he continues to have a special place in his heart for his native Southwest, which he has used to expand his portfolio of work and offer to fine art enthusiasts and collectors. His work graces the walls of private and corporate collections worldwide.
His love of photography started as a child peering over the developer tray witnessing the magic of the appearing image as his older sister made prints in the darkroom. By age 13 Joel built his own darkroom, shot pictures and printed them when he wasn't devouring every photography book he could find. Initially influenced by Ansel Adams and Group f/64, Joel learned the zone system and black and white "visualization." He had the good fortune to have as his mentors and work with, some of the world's best photographers. Further inspiring Joel's vision were painters Rembrandt, Monet, and Picasso. He has devoted the 35+ years of his successful career as a photographer pushing the limits of the medium, continually expanding his talent for revealing the hidden, extraordinary moments in our world.
Send an email to Joel