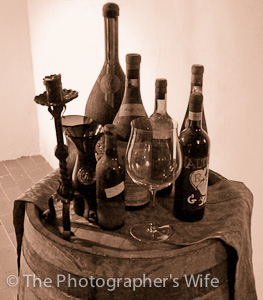 Thinking about our May Villages of Tuscany tour, I was inspired to cook Tuscan last night…  For our "Primi Piati" I made a traditional country Zuppa di Cavolo con Fagioli (Cabbage Soup with Beans), with crusty garlic bread in the bottom of the bowl.  For our "Secondi Piatti" I made Zucchini Farcito (Stuffed Zucchini), and for "Dolci" (desert), Caffe in Forchetta (Coffee on a Fork- a coffee flavored custard).  Mmmm, Buon Appetito!
We drank a nice California wine that went very well with the soup and the zucchini…
It's always fun to taste a bit of culture before you go somewhere!
FYI- We still have room in our March 19th Digital Photo Basics Workshop in Scottsdale!
Ciao!