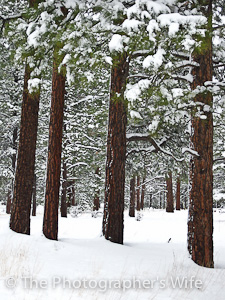 Living at a high elevation like Flagstaff (7,000 ft/2,100 m) can sometimes mean strange weather…  like the 8 inches of fresh snow we woke up to this morning!  I took this image out the back door of our house.
Instead of complaining, we should thank Mother Nature for being so generous- we definitely need the moisture.  It's been a relatively dry winter and this is beautiful!  Besides, with temperatures near 60 on Monday, the snow will not last long.
We're about a month away from leaving for Tuscany. Today has been a good day to gather the necessary books and maps we need for the trip.  Now it's time to pull out the check lists…
Ciao!