This time the photographer, instead of his wife, is writing this post.  I'm very excited to announce a newly formed relationship with Topaz Labs.  Who's that?  The company that makes some of my favorite and essential software tools which I use to improve my images prior to printing them.  As many of you know I do all my own printing so preparing my images is a critical process that is the modern equivalent of my old wet darkroom, only way cooler!  I also set up a discount with Topaz (use code JWOLFSON for 15% off any products and/or the code GETADJUSTED for 25% off Adjust) for any of you out there who are photographers and want to try their awesome plug-ins.
Here's a quick behind-the-scenes example with some brief explanations:
Step 1: My original image (left side), shot in the Fall is this curvy aspen that looks like it's dancing.
My first step, using Topaz Adjust, is to bring the slightly washed out leaves and sky in the background back to the way they looked (the camera often lies). I do this using the Adjust's Adaptive Saturation to make them more vivid. I also use the Detail controls to bring out the detail in the bark.  These are fairly subtle changes but look closely at the two images and you can see the differences. The adjusted image is on the right.
At this point I think the foreground tree, although compelling because of its shape and the light on the edge, is competing for attention with the background.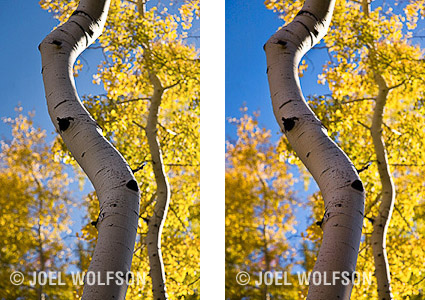 Step 2: Next I use Topaz ReMask to isolate the foreground tree.  The funky colored image you see is what it looks like within the software when you create a "mask".  A mask is a cutout where you can block everything out except what you want to work on- in this case the foreground tree. Everything with a reddish cast gets blocked out, the blue outline tells the software what you are isolating, and the green area is what will show through the mask.  The righthand image is the mask itself.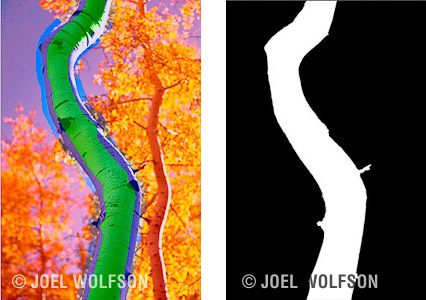 Final Step: Now with the tree isolated by the mask I just created, I can lighten it up which draws more attention to it.  Voila!  Here's the final image (some of you may have noticed a black and white version of this in a previous post but that process I'll save for another day…)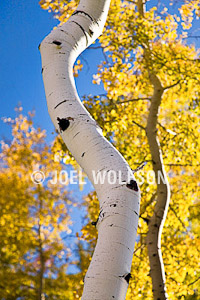 That's the nutshell version of preparing this image!
If you are interested in trying these plug-ins you can take advantage of some discounts through my affiliation with Topaz- Use code JWOLFSON for 15% off all Topaz Products and the code GETADJUSTED for 25% off Adjust (Adjust ends August 1st, JWOLFSON discount is ongoing.)