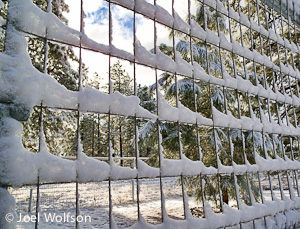 Joel writing the blog today– Yes we do get snow in Arizona!  This is our first of the season.  Because I'm still recovering from my hand injury and can't handle my DSLR very well I shot these on my Canon G10 point and shoot camera.  Of course I've shot a lot of serious work on my G10.  We often think of traveling to far away or exotic places to get good photos but if you look around your house or just outside your door you might find some nice opportunities. I'm not a big fan of snow and cold but from a photography perspective I love the snow.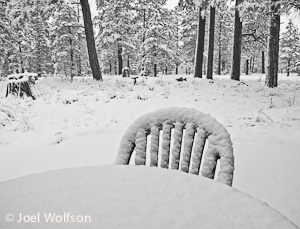 Free Webinar: I'm doing a webinar for Topaz on Nov. 10th 4PM (CST) and in addition to learning how I use plug-ins in my creative workflow there will be a substantial discount for webinar attendees. You can view the archived webinar here.
Photo Tech Notes:
I used a Canon G10 for these, a smallish point and shoot camera that has both full auto and a lot of control.  I shot both of these handheld.  I used Lightroom 3 to import, organize and process my photos. Then I used Topaz Adjust on the color photo since Lightroom's fill light didn't cut it for equalizing the foreground and I used Topaz B&W Effects to process the black and white image.