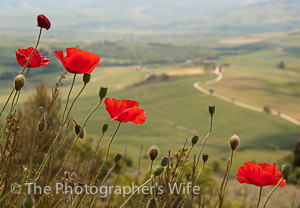 I snapped the poppies with beautiful background on my way back to our hotel after lunch yesterday…  if only this was my view at home!  The sepia tone below is inside an ancient abbey that just begs to be shot in black and white!
Today we were actually in Siena- I hope to get a shot or two from our participants for my next post!  Siena is one of my favorite days on our trip…  We have a terrific guide to take us to some of the most important sites and tell us all about the history of Siena.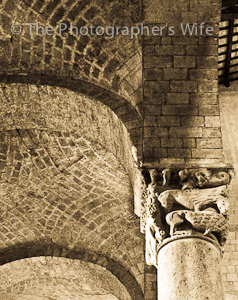 In Siena, the Palio is their most important "festa" all year long and occurs twice, once in July and once in August.  The city becomes a different place during these two events and the rest of the year revolves around the Palio.  We are looking into basing a photography workshop at the Palio for 2012…  Very exciting!
Ciao for now.