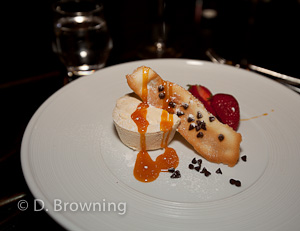 After a phenomenal welcome dinner Saturday, il dolce (the desert) arrived…  Here's a photo by one our participants (Dave Browning) of last night's desert.  And, yes, it was as good as it looked!
Today we suffered through a little rain but were rewarded with a beautiful rainbow at our last stop… in the same place we saw a rainbow last year!  Does this mean it's our lucky village?
Tomorrow, onto Montalcino, a Brunello winery, an ancient abbey and some historic walled villages.
Ciao!