ON1 Photo Raw 2019
Now a Refined All-in-one Solution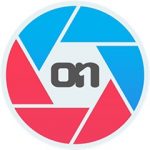 ON1 Photo Raw 2019 is a major update to the previous version and a welcome one for me. I feel like this product has really matured and offers a great all-in-one solution to image editing and management. I've been using Photo Raw since it was first released and the ON1 suite of plug-ins before that. I think they've finally incorporated all the best parts of the plug-ins and come up with a unified and intuitive workflow.
My video above highlights what I think are the best and most useful features. With 2019 I've found a huge speed increase from my latest 2018 version. That, coupled with a redesigned and simplified workflow make for a refined all-in-one solution that's really enjoyable to use.
Bottom Line First
It has actually surprised me how much difference I notice with Photo Raw 2019 and how much I like using it over the 2018 version. From the standpoint of usability and performance this is a big jump and is much more worth the price of entry than previous upgrades. Although I loved 2018 for processing images, especially over Lightroom, the new interface for 2019 makes the workflow so much smoother. This coupled with the speed gains make it a pleasure to use on a regular basis. It's even fast enough to use on my aging laptop, which I couldn't really say for the last update of 2018. They also improved so many little things that it all adds up to being fun to use. If it feels too much like work I won't want to spend time working on my images. Enjoyment is big in my book. ON1 has fixed the awkwardness and overlap of the previous modules into an elegant and intuitive workflow with tabs. And they are all non-destructive along with fast switching among them. Is it worth $80? I think so but ultimately that's up to you. If you're not sure just download the full version 30 day free trial before you commit to purchasing. (if decide to buy, get an extra 20% off with the code JWPHOTO)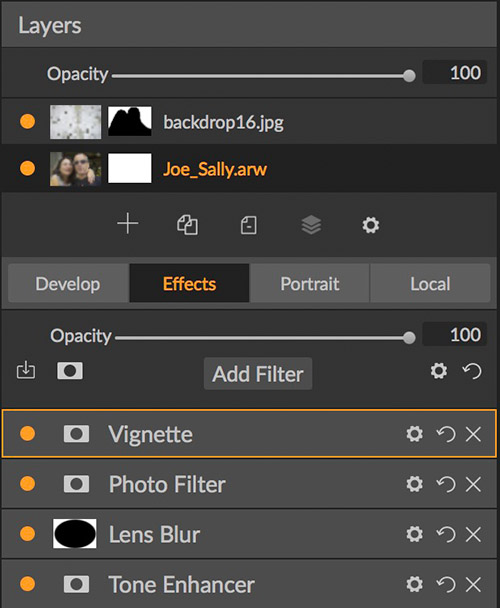 Intuitive Workflow in 2 Easy Parts
Previously Photo Raw had 4 standard modules: Browse, Develop, and Effects modules that worked in Raw with NDE (Non Destructive editing) and Layers as a separate module that ultimately meant converting your raw file and losing the ability to do non-destructive edits. Not to mention the old Layers module was a bit confusing. 
In this new version, it's just Browse and Edit for everyday tasks. Edit now has tabs for easy switching among Develop, Effects, Portrait, and Local adjustments and all edits are non-destructive. All except the raw Develop panels become layers with their own opacity sliders, blending options and comprehensive masking tools. It's a much more efficient workflow due to this redesigned interface. The filter selection dialog is greatly improved and they now have fully implemented renaming of layers, both filter and image types.
Image Layers
As seen in the screen shot above, one can now add image layers without losing non-destructive editing and without having to go to a separate layers module that befuddled many users in the old version. The new integrated image layers are much simpler to use. You can add multiple image layers either as a new image layer or duplicate an existing one.
Ahh, the Portrait Tab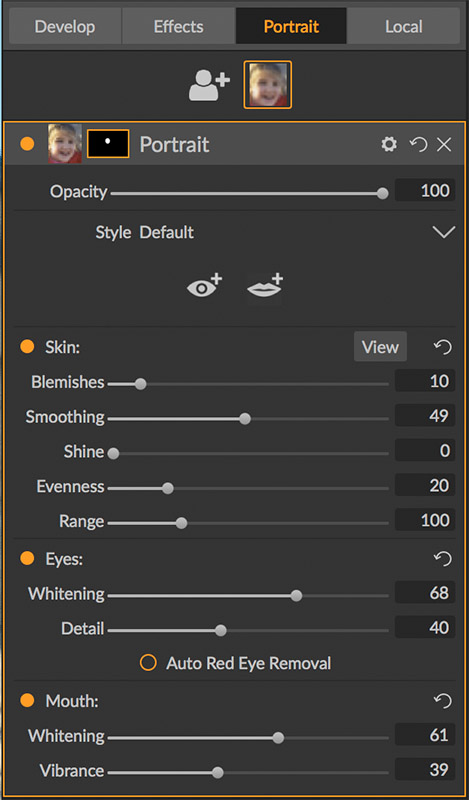 ON1 has finally integrated all the wonderful capabilities of their legacy portrait plug-in. Those of us that used this in the past have been wanting it to be fully integrated into Photo Raw. Now it is! In 2018 they had skin retouching but they've added the eyes and mouth controls. It has the automatic face finder where it creates a mask and adjustment pane for each face. All this makes it very fast and easy to whiten eyes and teeth, accentuate lips, add detail to eyes and improve skin. There are 9 controls for theses plus the usual masking, blending options, and opacity.
Keyword List
A useful keyword list has been added. You can either scroll, which isn't too practical when you have a lot of keywords or you can type in a search and make use of several options when you right/option click on a keyword. Of course you can accomplish some of these tasks using the Filters search and keyword entry box but it's always nice to have more options and I like that it gives you the number of photos for a particular keyword.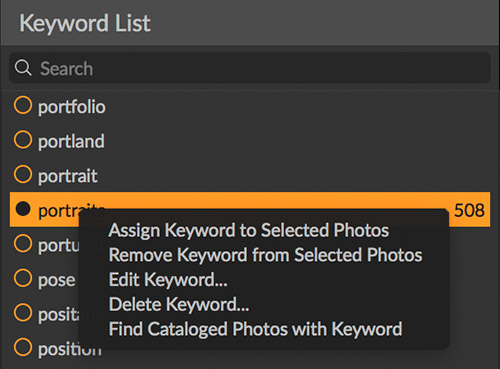 Specialized Tasks
In addition to Photo Raw 2019 handling everyday image management and processing tasks it has a few specialized capabilities. New with this release is focus stacking. When invoking it, you get a dialog that pops up essentially saying "more to come" with the next (free) update though it is operational right now. ON1 also includes HDR and Panoramas from the previous version. These are all separated from the Edit menu which makes perfect sense as these aren't really everyday tasks for most users and it would have cluttered the new interface. ON1 does claim non-destructive editing for HDR.
The Cons
Thankfully, most of my would-be complaints are pretty minor at this point in the product cycle. My biggest one is with import dialog. If you want to import directly from your memory card you can't group the raw+jpeg into single files for naming like you can in Lightroom. Consequently if you implement good organizational practices and rename with sequence numbers on the import, your raw and jpeg now have different identifiers and you can't group them even with the Group Raw Plus JPG option in the File menu. I have a pretty good workaround for this and it's no deal breaker but I don't see the point of importing with the import dialog without this ability. 
Converting from Lightroom
This release may be the one that allows you to finally let go of Lightroom. Their updated migration tool should prove to be much better than the previous one. The 2019 version will allow you to transfer all your non-destructive raw edits from Lightroom. Lack of this ability in the previous version was a deal breaker from some long time Lightroom users. ON1's migration tool uses artificial intelligence to accomplish this. I'll report back after I've tried it to let you know how well it works.
The little things
The look and feel is nicer. It's more subdued and coupled with the "combined workflow" it makes it that much more enjoyable and easy to use. A big one for me is renaming filter and image layers without the cumbersome appendages of the filter name which drove me a little crazy in the 2018 version. It just makes it much easier to see what you've done when you go back to an image with several adjustment layers. The new filter selector with image examples and search bar is a nice touch as well.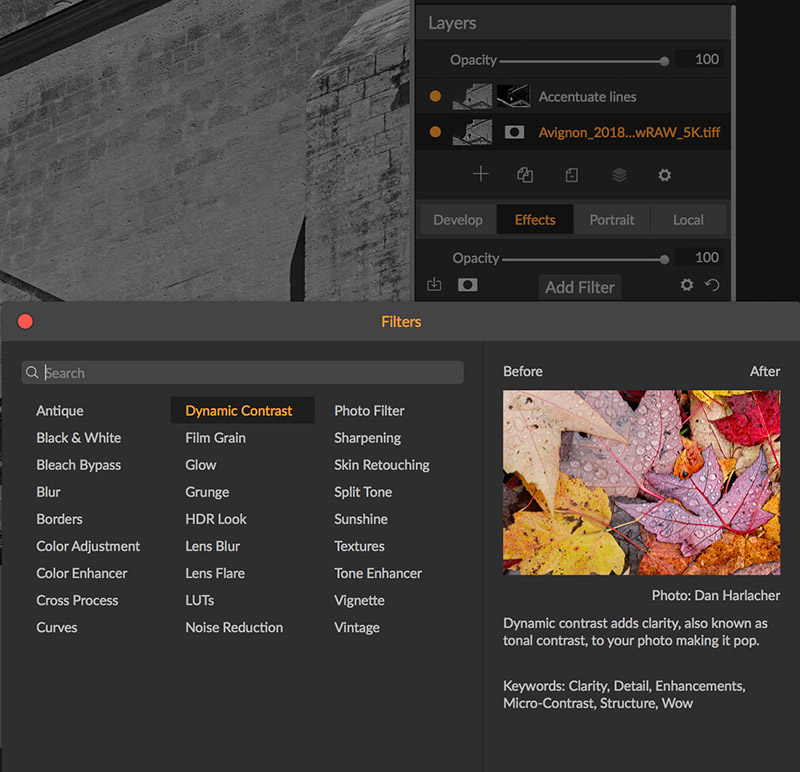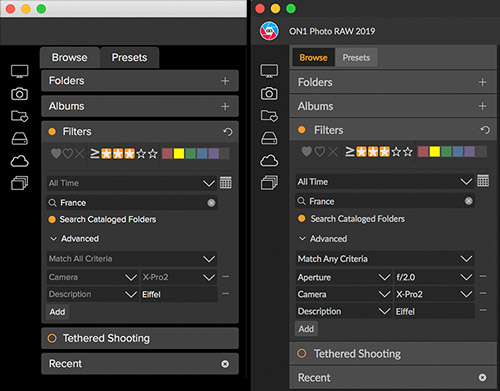 Conclusion
After working with Photo Raw 2019 pre-release and now the release version for several days, I'm really enjoying it. Although I use many different tools in my workflow this makes a great main hub and all-in-one solution for both working on images and managing them. I have yet to try the new A.I. (artificial intelligence) powered Lightroom migration tool but if it works as promised the fence sitters waiting to make the jump won't have any more obstacles. The way I judge if a product has matured is if it's fun to use and intuitive without hurting my brain figuring it out. Of course it's not perfect, nothing is, but I'd say in this 2019 version, ON1 has arrived.
Happy Shooting! (and processing)
Joel
---

---
Joel Wolfson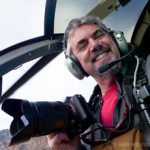 is an internationally published photographer who loves teaching as much as shooting. He shares his 30 years of experience as a working pro with other photographers and enthusiasts by way of his workshops, 1 on 1 training, webinars, articles, blog and speaking engagements. His technical articles have been translated for use in more than 30 countries yet he is best known for his artistic images of nature's fleeting moments and unexpected views of everyday places around the globe. He is one of the pioneers of digital photography having conducted digital photography seminars for Apple and other corporations starting in the early 90s.  His roster of notable clients includes numerous publications and fortune 500 companies. He currently works with great affiliates like Arizona Highways, Topaz Labs, ON1, and Skylum/Macphun to have more avenues for working with those wanting to pursue their love of photography. His goal is to make learning and improving one's photography easy, fun and rewarding.
Disclosure about product links and affiliations: Some of the links I provide are affiliate links which means I get a small commission, with no additional cost to you, if you click it and end up buying something. It helps keep the lights on as well as supporting this blog and my other free educational resources and articles. So if you use them, thanks! It is always my goal to report my results in a straighforward manner whether or not it favors a particular product.