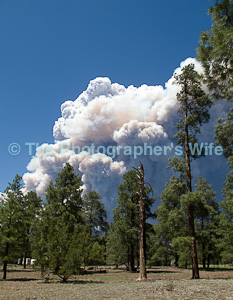 Well, we all know that June is peak fire season in the north country, but sometimes we get comfortable and try to forget about it…  Thanks to some idiots with matches, we now have a couple fires that won't let us forget about them.  The one closest to our house is called the Schultz Fire and is the "biggest, baddest" one.
I saw it Sunday morning shortly after it was discovered and within a couple hours it looked like Armageddon had come to the neighborhood.  Windy, hot and dry weather conditions made it perfect for spreading and the smoke plume quickly out-sized the mountains around it.  We are safe as the wind is blowing the fire away from us, but many others have been evacuated.
I took the image on the left 20 feet outside our back door yesterday afternoon and Joel took the bottom one yesterday evening about 1/2 mile from our house.
Join us in sending positive energy to all those involved in fighting the fire…  We're hoping this is over soon!