A Pro's Story of the New Fujifilm X-Pro2
Updated Feb 7, 2017 See updates with red headings, 

green text
This post is the prologue for what has become my continuing series of the Fujifilm X-Pro2, XF lenses, and X-Pro Tour of images from my travels, stories behind the photos, and my thoughts and experiences with the Fuji X-Pro2 system in many different situations. Much of what I post applies to other Fuji cameras and the rest of the system (I posted Part 1  and Part 2 in May, 2016 Part 3 in June and Part 4 in Sept, and Part 5 in Dec) In the captions I provide the backstory of the shot along with technical info (non-tech folks just ignore the part at the end of the captions.)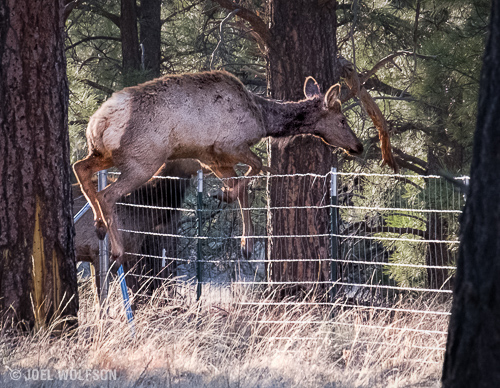 This is a brief bottom line story from my perspective as a full time professional photographer. I won't go into every feature and setting as there are many solid reviews out there covering this. I want to address some aspects of real life use of the camera and especially aspects I haven't seen addressed much in other reviews or profiles of the X-Pro2.
I have always loved using rangefinders. Though mostly Leica, I've owned and used  many rangefinder cameras over the years. The Fuji X-Pro2 is an absolute pleasure to use. I love the OVF (optical viewfinder) when using lenses up to 56mm (85mm full frame equivalent.) And you can't beat the ingenious "ERF" (electronic rangefinder). This is a small picture-in-picture window with a magnified view of the focus area in the lower right for critical focus.
It's amazing and wonderful to be able to instantly switch to the EVF (electronic viewfinder) for a more conventional mirrorless viewing experience with longer lenses or just if you want to. This is one of the few digital cameras I've owned (I've been shooting digital since the early 90s) with useable JPEGs and I especially like the Acros option. This option is a digital simulation of Fuji's renowned black and white film of the same name.
But wait, there's more. The Fujinon lenses are exceptional, even the zooms. I've tested nine of Fuji's XF lenses in the studio and in the field as well as used them for everyday shooting. I have the XF 10-24mm f4 OIS, XF 14mm f2.8, 23mm f1.4, XF 35mm f2, XF 56mm f1.2, XF 18-55mm zoom f2.8-4.0, and XF 55-200mmm 3.5-4.8, XF 100-400 f4.5-5.6 OIS WR and 1.4X. I also tested but ended up not keeping the XF 18-135 f3.5-5.6 OIS WR. It performs very well optically but I felt there was too much overlap with my other lenses. Who knows, maybe I'll go back to it at some point. Although the first sample of my 18-55 performed well for the most part, it was de-centered enough to be a problem so I exchanged it. My replacement is superb. I got an exceptionally good sample of the 55-200 (or perhaps it is just an exceptional design.) I should note that getting a bad sample of a lens doesn't alarm me. I've found as much and often more sample variation in Canon and Nikon lenses. I wish all these companies were more consistent but all these still have less variation than some third party manufacturers. All the rest are stellar too. I have to admit they are a bit neutral for me in character (rendering) compared to Leica or Zeiss lenses but I'll take the fabulous quality. Of course, the character changes with film profiles set in-camera for JPEGs and the same with Raw files if you use Lightroom's Fujifilm profiles under Camera Calibration. Another cool aspect of the in-camera profiles is that you can process the raw with one or more film profiles which creates a new JPEG with each iteration. You have to be set to shoot in Raw or Raw+JPEG to use this. 
The Fuji X-Pro2 system is one of the best thought out systems with versatility second to none. It's fun to use and is capable of outstanding quality, even when compared to full frame systems. But…
Two Edged Sword of the X-Pro2 Updated 7 Feb, 2017
The crux of the problems are twofold. First is Lightroom which has become interminably slow in recent years, particularly when rendering individual images on-screen when you want to scrutinize detail, check for sharpness, etc. Of course this is not solely a Fuji problem but virtually any recent camera's files.  If you don't import large numbers of images using Lightroom or don't care about the painfully slow screen rendering times then you should be fine. However, I use Lightroom for managing my 100,000+ digital images. See the workflow section below.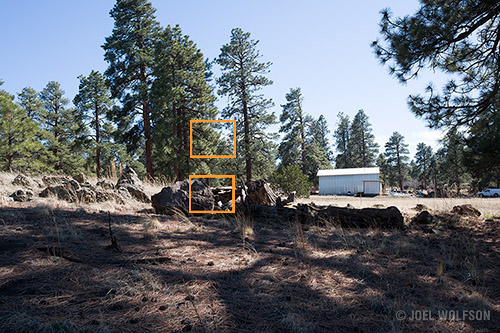 The second aspect is the lack of detail extracted from Adobe's LR/ACR (Lightroom/Adobe Camera Raw) or even SilkyPix which is Fuji's official software. If you want to avoid the now infamous X-Trans artifacts sometimes referred to as "worms" or "plasticy" then you must use other software to process your raw files like ON1 Photo Raw, Iridient Developer, Luminar, or Afinity Photo 1.5.x. Capture One is also alleged to do a good job but so far they have not supported lossless-compressed Fuji files, even through several new versions so at this time I don't consider it a viable candidate (I will be posting an in-depth article comparing these processors- if you want to be notified you can sign up for my email news if you aren't subscribed already.)
How obviously these artifacts appear is subject-dependent. If you only shoot people, it probably won't be a big factor unless you want to see detail in every eyelash and pore in the skin. I have only seen occasional artifacts in people shots and mainly with areas of contrast such as rim and back lighting. With Lightroom or Silkypix, expect to get the "worm" artifacts instead of fine detail, especially in trees, grass, pine needles, leaves, or other greenery. Below I show examples of how using two different types of software for raw conversions affect the same file. The comparison is using the exact same raw file, one using Lightroom and the other using Iridient Developer.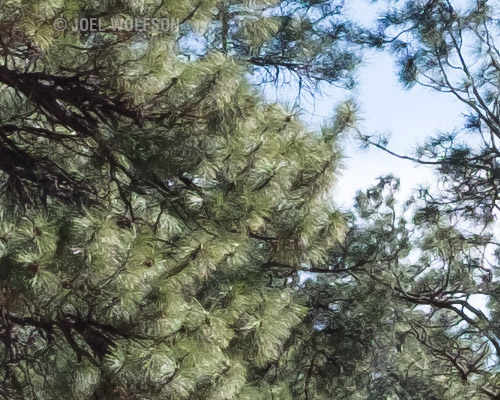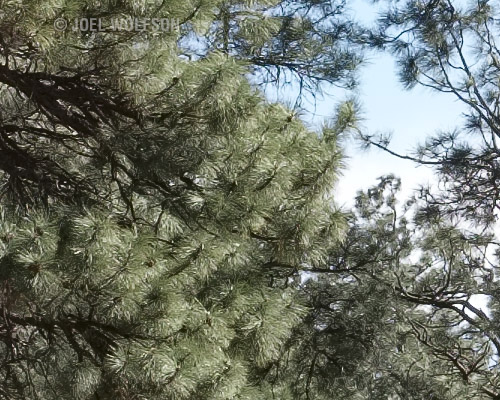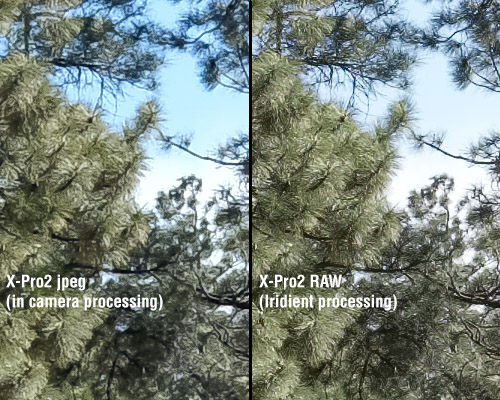 To keep all this in perspective, I commonly print and sell very large images. If you make smaller prints you are far less likely to see the artifacts. I did a comparison with a Sony A7 II (also 24MP but full frame) against a comparably outfitted X-Pro 2. In a 30×20 print you can see the difference if you look closely. When you go larger, especially if you up-res your files, the problem is exacerbated. For discerning viewers of fine detail in large prints, LR/ACR or SilkyPix won't cut it.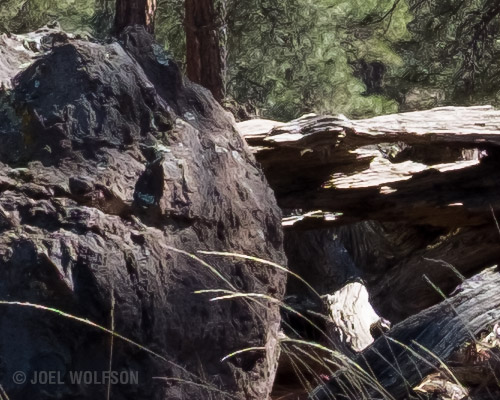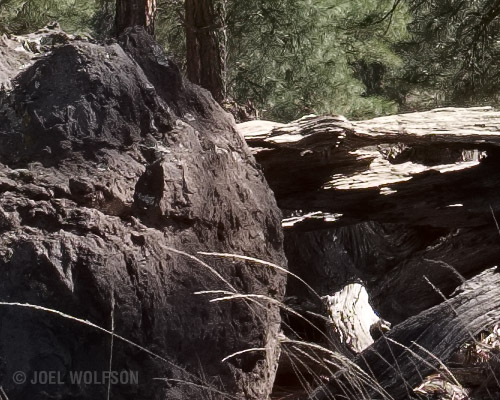 New Workflow (aka Lightroom Workaround)
Updated 7 Feb 2017
I intended for the Fuji system to augment my full frame Sony system which is based around the incredible A7R II. I don't want to part with the Sony gear at this time but I really love using the X-Pro2 with its combination of rangefinder and EVF experiences in one camera.
Right now I am using the 2015.8 release of Lightroom CC (yes they really are still labeling it "2015.x" in 2017) and the import speed has been greatly increased since I first wrote this article. It is now just about as fast importing with Lightroom as Photo Mechanic. BUT it still takes Lightroom way too long to render an image which really slows down culling when you're wanting to check fine detail quickly to decide on keepers.
I am currently testing several new raw processors including culling speed in ON1 Photo Raw (for a 15% discount use the link and code JW16ON1) so stay tuned for an article/post about this. The latest processors to accommodate Fuji X-Trans files are Luminar which I really like so far though they need to work on speed of processing, ON1 Photo Raw which I love because it can be an all-in-one solution of database, culling and editing. Right now it works with uncompressed format but they have a planned release of lossless-compressed compatibility this year. Then there's Affinity Photo 1.5.x which is awesome competition for Photoshop, only cost $50 and does already open lossless compressed X-Trans files.
So here's my current workflow:
Import using Lightroom. Due to recent improvements in import times I prefer the interface, presets, and key-wording in Lightroom's Import module over Photo Mechanic.
Photo Mechanic for culling and rating. I can enlarge and inspect images very quickly (this step cuts a lot of time over LR) This is where I mark my keepers and rejects
Use On1 Photo Raw or sometimes Affinity Photo or Iridient Developer for raw extraction and/or processing of my "selects" that I need for large prints. They all now handle both compressed and uncompressed raw X-Trans files.
Although motivated by Adobe's slowness issues, I've come to like using Photo Mechanic because overall it really speeds up important aspects of my workflow, even with my Sony and other files. I can do my culling and image rating/selection far more quickly than in LR. No more waiting for previews to render when magnifying images either. The thumbnails and 100% views happen nearly instantaneously with Photo Mechanic. ON1 Photo Raw is being updated to 2017.2 Feb 9th, 2017. Not only are there great improvements in processing quality but also support for lossless compressed Fuji raw files. I'm waiting to see how they do with cataloging and database features in future updates. Even if I keep using Lightroom as a database, Photo Raw is so well rounded that it will still be more efficient to use it for other parts of my workflow.
BOTTOM LINE: There you have it. I love shooting with the X-Pro2 and its beautiful resulting files and with several new software products out it isn't nearly as involved as a few months ago to work around Lightroom's painfully slow image rendering and get the best out of the X-Pro system.
Epilogue: Fuji's 2.0 firmware upgrade is impressive. Some manufacturers would make you buy a new camera to get the kind of useful upgrades Fujifilm included with a free firmware update. I'll do a follow-up down the road with my impressions after using this system for a full year. In the meantime I'm loving the experience and quality and hoping Fuji and Adobe will up their game in terms of the fine detail extraction and workflow end of the image files.
A note about links and affiliations: Some of the links I provide are affiliate links (ON1, B&H) which means I get a small commission, with no additional cost to you, if you click it and end up buying something. It helps keep the lights on as well as supporting this blog and my other free educational resources and articles. So if you use them, thanks!
Happy Shooting Everyone!
Joel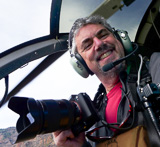 Joel Wolfson is an internationally published photographer who loves teaching as much as shooting. He shares his 25+ years of experience as a working pro with other photographers and enthusiasts by way of his workshops, 1 on 1 training, webinars, articles, blog and speaking engagements. His technical articles have been translated for use in more than 30 countries yet he is best known for his artistic images of nature's fleeting moments and unexpected views of everyday places around the globe. He is one of the pioneers of digital photography having conducted digital photography seminars for Apple and other corporations starting in the early 90s.  His roster of notable clients includes numerous publications and fortune 500 companies. He currently works with great affiliates like Topaz Labs and Arizona Highways to have more avenues for working with those wanting to pursue their love of photography. His goal is to make learning and improving one's photography easy, fun and rewarding.