First Look Review of Luminar AI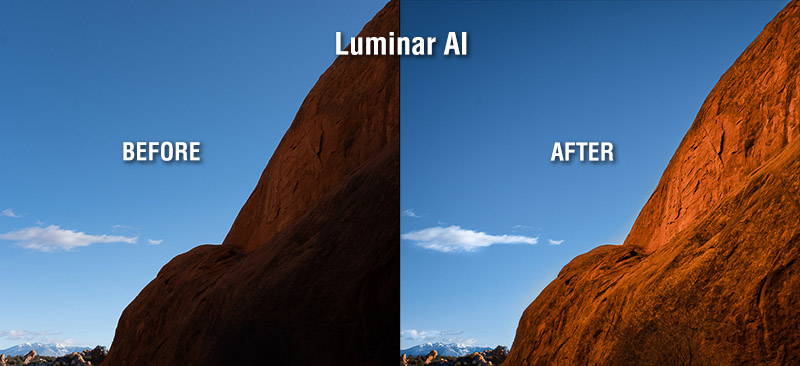 Bottom line first
You can't beat Luminar AI for having the most intuitive interface out there. It's sensible, elegant and easy to use. This is in contrast to Luminar 4 which actually has lots of overlap in terms of tools but is just not as efficient getting to a beautiful image. You can see my pros and cons below but for the cost of entry Luminar AI has a lot going for it.
I think of it as the image processor for the CEO: If you want excellent results without having to delve into all the details, the AI tools combined with the interface and templates will get you there. That's not to say that you can't target adjustments with local masking and various tools but the elegance is in the ease of it.
**Discount Code You can save $10/€10 using my discount code WOLFSON at checkout.**
1 seat license $69 /€69 or 2 seats for $89 /€89 (regular price 1-$79, 2-$99)
Using Luminar AI
An old adage in the photography business was price, quality, speed…pick two! Well, with Luminar AI you get all three. I should qualify that the "speed" part is going from initial file to final image. The sliders themselves aren't real time- at least not on the two computers I use but it's not a deal breaker and you can still get to a nice final image quickly.
It's strongest suits are portraits and landscapes. But you can still effectively process any kind of image quickly while making use of all the in-built artificial intelligence.
The interface is fabulous and it's easy to try different sliders to see their effect with the ability to toggle them on and off, seeing a before and after of just that tool. As you adjust various tools and sliders you can see the cumulative effect of all your adjustments with the slider at the bottom of the tools sidebar from 0 to 100 percent. Furthermore you can save off that set of adjustments as your own template to use later on other images.
Be aware that first and foremost this is an image processor and an excellent one at that. But the catalog function is rudimentary with an equally spartan search/filter function. The catalog is more like a browser where you can store some favorite images or folders. If you already manage your images with ON1 or Lightroom you won't be able to replace them with this. But that isn't the point of this program anyway. I see Luminar AI as a complement to those programs.
UPDATE: Based on feedback from a user I was reminded that one has to remember that some of the AI controls aren't magic and you want to pay attention. For example the AI Accent can be great for a one slider solution but in landscapes it may cause haloing, especially if you're heavy handed with it. You can use it in conjunction with masking to get the effect only in the areas you want. I will use this technique, for example, by masking out a sky and applying the effect just to the land portion. Then save and reverse the mask and adjust the sky separately.
Templates and more
Underneath the hood, according to Skylum, this program is a new design and approach from the ground up. We can't see that but from the end user perspective it's just much easier to process an image than Luminar 4 and for that matter, most other mainstream processors. It seems that Skylum has put some effort into making useful presets or what they call "Templates." It's simple to try several of them quickly for one-button processing using artificial intelligence and generally find a great starting point if not a final result. You can also adjust the Template slider to back off on the effect. I've heard some at Skylum refer to Templates as presets on steroids. I suppose because a template can contain numerous AI adjustments they are perhaps more adaptable than other presets out there. In any case, it's a helpful touch.
Pros and cons
Pros:
• Quick and efficient to get from capture to a nice final image
• Friendliest and most intuitive interface out there
• Plenty of variety and options for making good use of AI
• Excellent and useful portrait module/tools
• Comes with useful "templates" or presets in other parlance
• Local masking module is useful, especially for targeted adjustments
• Handy and useful landscape tools like Sky, Augmented Sky, and Atmosphere
• You can see at a glance which adjustments were used by a template and change them if you want
Cons:
• Catalog capabilities are spartan and rudimentary with very limited search function and no EXIF or IPTC information
• Standard ratings don't carry over from outside programs like Lightroom, ON1, Photo Mechanic, etc.
• Some functions are a little slow to render such as Erase brush or seeing effects when zooming to 100%
Final Word
In terms of being a useful tool, the pros outweigh the cons and I really like Luminar AI as an image processor. If you notice, my main complaints are about the catalog and image management so the way I evaluate this product is to ask myself "Is this worth the money as an image processor, even if I ignore the catalog function?" My answer is yes. 
Happy Shooting,
Joel
---

---
Joel Wolfson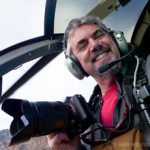 is an internationally published photographer who loves teaching as much as shooting. He shares his 30 years of experience as a working pro with other photographers and enthusiasts by way of his workshops, 1 on 1 training, video tutorials, articles, blog and speaking engagements. His technical articles have been translated for use in more than 30 countries yet he is best known for his artistic images of nature's fleeting moments and unexpected views of everyday places around the globe. He is one of the pioneers of digital photography having conducted digital photography seminars for Apple and other corporations starting in the early 90s.  His roster of notable clients includes numerous publications and fortune 500 companies. He currently works with great affiliates like Arizona Highways, Topaz Labs, ON1, and Skylum to have more avenues for working with those wanting to pursue their love of photography. His goal is to make learning and improving one's photography easy, fun and rewarding.
Disclosure about product links and affiliations: Some of the links I provide are affiliate links which means I get a small commission, with no additional cost to you, if you click it and end up buying something. It helps keep the lights on as well as supporting this blog and my other free educational resources and articles. So if you use them, thanks! It is always my goal to report my results in a straighforward manner whether or not it favors a particular product.