19 Months with the MindShift Backlight Photo Backpack
Bottom line first
We all aspire to find and own the perfect-for-every-situation photo pack or bag. I'm not sure that will ever exist but the MindShift Backlight stands out as the most versatile one I've owned to date. I've used it in many situations and places over the last year and a half and whether I was carrying my Sony full frame system or my Fujifilm APS-C system. The Backlight has been both practical and a pleasure to use. In my book, comfort is king. This is by far the most comfortable photo backpack I've used, even with a heavy load. Comparing it to one of my all time favorites, the discontinued Kata 3N1-20, it's a bit more comfortable on a long day. In fairness though, the Kata doesn't have the nearly full-on backpack harness of the Backlight (the Backlight lacks load lifters for the shoulder straps.)
**FREE accessory with MindShift or Think Tank orders $50 and over **
I received the Backlight 26L from Think Tank at a time when I was struggling with getting a Peak Design Everyday backpack to fit my needs. Although the Peak Design is a beautiful pack and well made, it's no contest for the Backlight. The MindShift Backlight is easy to configure and change for whatever gear you're loading in it. There is plenty of room in the laptop sleeve, lots of non-photo storage space for your jacket, food, etc. And there are lots of pockets and compartments to keep and separate items of various sizes.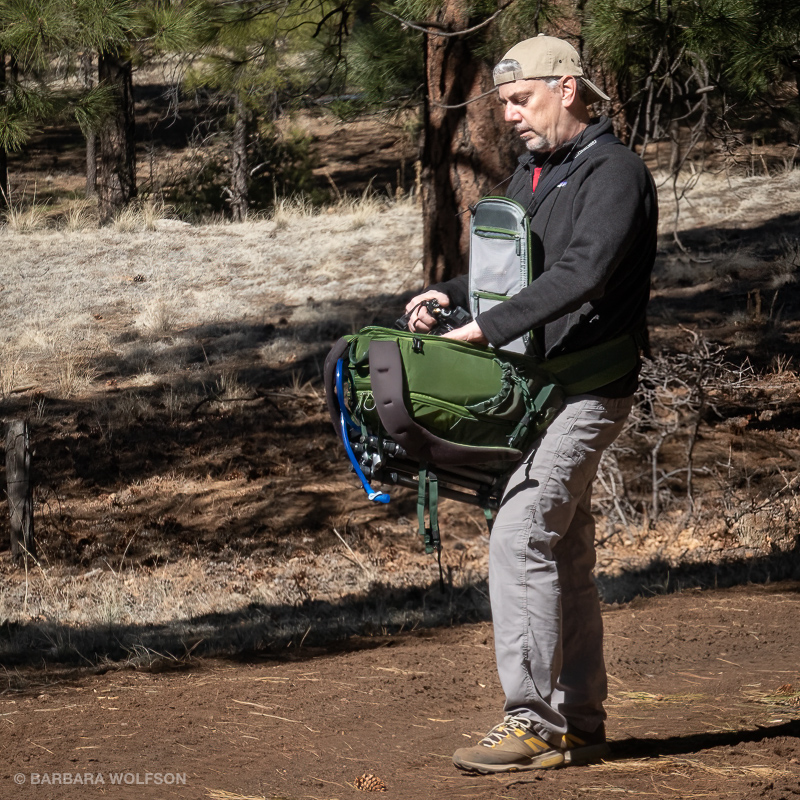 The most compelling feature is the ability to swing it around by the waist belt, open the pack with the large sturdy zippers and have full access to all your gear without having to take it off and lay it on the ground.
Tricks for more functionality
I figured out it was pretty easy to add some functionality that probably wasn't intended by Think Tank engineers. One is to use the outside most zipper pocket to store a 1.5 liter hydration pouch and run the hose and bite valve through one of the accessory loops on the shoulder strap. Another is to use the hidden tripod strap under the top velcro closure/pocket to attach the pack to the handle on your roller bag when you want to wheel it around rather than wear it. You can view my video to see these in more detail.
Other versions and sizes
I had a chance to use a friend's 18L version of the Backlight. If you have a lighter load or smaller cameras, such as Micro 4/3 it is also a great pack. It being smaller I found the harness system slightly less comfortable than my 26L. Naturally these things vary with body type. My thinner and slightly shorter wife at 5'7″ (170cm) found my 26L to be quite comfortable. She has many more miles with backpacks than me having worked as a backcountry ranger at Yosemite and on wildland fire burn crews. My sense is that the larger sizes (36L and Elite 45L) should be at least as comfortable as the 26L with average to tall photographers. Of course you need to factor in the weight of the gear you will be carrying.
Pros and cons
Pros:
• Easy access without having to remove the pack
• Very comfortable even with a heavy load
• Lots of non-photo storage space, easily accommodating a jacket, food, etc.
• Easily configurable for different gear
• Large side pockets that cinch tight for water bottles, small tripod or other gear
• Neckstrap to hold up main back flap when working with and retrieving gear
• Versatile set of straps, loops and connectors for tripod or other uses (see my video for connecting to a roller bag)
• Tripod straps and holder both hide away under velcro closures and maintain clean lines for the pack
Cons:
• No load lifters on shoulder straps
• No dedicated sleeve or attachment for roller bags (but see my video for a nice workaround)
• No hydration system (see my video for an easy and effective hydration solution)
• Would like to see a velcro closure flap for the laptop compartment
Final word
The MindShift Backlight 26L has all my requirements for a versatile everyday backpack that works in many different situations. As you can see in my pros and cons list there aren't any serious flaws with it. Whether traveling by car or air, walking or hiking, it's very comfortable even with a full load of gear. I really like having access without having to put the pack on the ground. I find it to work well with my Black Rapid strap system. So if I have my working cameras and lenses outside the pack on and ready to shoot, I can hike all day without soreness. If I have all the weight inside the pack all day, my shoulders and neck can get sore. However I think that's just my body type because it's no different from any other backpack, photo or otherwise, that I've used. I also like that it doesn't look like a photo backpack. Addressing some of my "cons", it's very easy to add a hydration solution and to use the upper tripod strap to attach it to your roller bag or rolling suitcase.
I took this pack on a 7000 mile, month long road trip this past fall and it performed well for me. I was able to hike and walk with it at the various stops I made to shoot and it also did well working out of it from the back of my SUV. Once I can start back up with my European workshops and overseas photo shoots I'll have no hesitation to take long flights and extended trips by air with it.
The MindShift Backlight by Think Tank has become one of my all time favorite packs.
Happy Shooting,
Joel
---

---
Joel Wolfson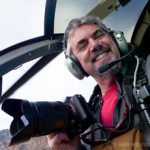 is an internationally published photographer who loves teaching as much as shooting. He shares his 30 years of experience as a working pro with other photographers and enthusiasts by way of his workshops, 1 on 1 training, video tutorials, articles, blog and speaking engagements. His technical articles have been translated for use in more than 30 countries yet he is best known for his artistic images of nature's fleeting moments and unexpected views of everyday places around the globe. He is one of the pioneers of digital photography having conducted digital photography seminars for Apple and other corporations starting in the early 90s.  His roster of notable clients includes numerous publications and fortune 500 companies. He currently works with great affiliates like Arizona Highways, Topaz Labs, ON1, and Skylum to have more avenues for working with those wanting to pursue their love of photography. His goal is to make learning and improving one's photography easy, fun and rewarding.
Disclosure about product links and affiliations: Some of the links I provide are affiliate links which means I get a small commission, with no additional cost to you, if you click it and end up buying something. It helps keep the lights on as well as supporting this blog and my other free educational resources and articles. So if you use them, thanks! It is always my goal to report my results in a straighforward manner whether or not it favors a particular product.