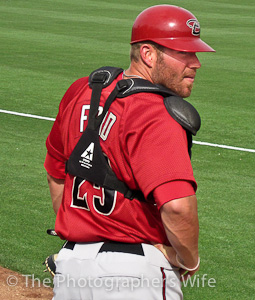 Joel and I recently went to a Major League Baseball Spring Training game in Phoenix, part of the Cactus League.  What a great opportunity for photos!  I used my little "point and shoot" and put it on the sports setting (which sets a fast shutter speed).
Because we both love baseball, we figured it didn't matter what teams we saw play.  So we chose a game based primarily on the size of the stadium.  In a small stadium, not only are the tickets typically cheaper, but it's a more intimate feel.  You can get close to the players (as you can see) and really feel like you're part of the game!
We went with some friends and their two young boys. One of the boys had a player throw him a fouled ground ball.  After the game, they were able to get autographs…  that's just how great Spring Training is!