I was committed to burning my property.
I know this sounds a bit crazy but we're talking about a prescribed burn. My wife researched programs in our area for homeowners to reduce fire hazard. In our area the firefighters are cross-trained for both wildland and structure fires so they are perfectly qualified to do prescribed burns on a residential property. After getting an assessment we got rid of all the pine needles dropped by the numerous ponderosa in proximity to the house and studio. The fire crew dug a containment "line" around the perimeter of our property. Then they trimmed low hanging branches and small trees that could be potential "ladder fuels" Then we waited for the right weather and time to burn.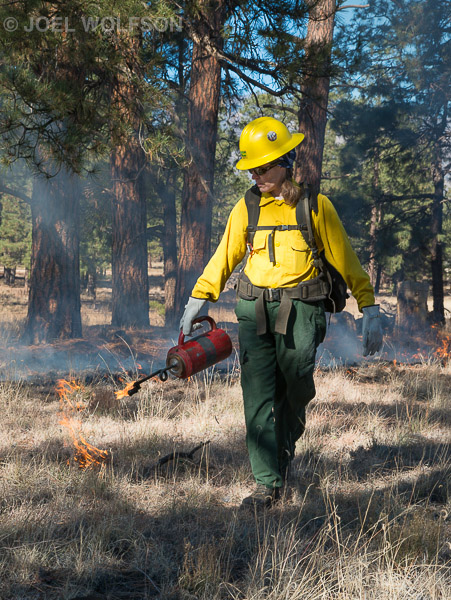 I live in the WUI (pronounced woo-ee). That stands for wildland-urban interface. The upside is I'm in the woods and mountains with beautiful views; surroundings that motivate me creatively, it's quiet, and I see lots of wildlife. The downside is I'm in the woods, which means potential danger from wildland fires. Exacerbating that danger is that I also happen to be in northern Arizona, where wildland fires are not uncommon.
Scary moments can motivate you
I've seen smoke plumes and hazy skies from forest fires many times but they are usually far off. However, a few years ago a young man, despondent over his girlfriend, decided to light a dozen fires in the forest near my house and studio. My wife happens to be a fire ecologist and although we were away at the time, one of her colleagues that manages a wildland fire crew called us to let us know there was a fire in our area. We drove home, got our dogs, packed up a few irreplaceable items while coughing from smoke. It sounded like we were in an air raid with planes flying right over our heads dropping fire retardant. Then the sheriff knocked on the door and told us to get out of there. We stayed at my mother's house trying to get updates on the progress of the firefighters. Finally in the early evening we breathed a big sigh of relief when a neighbor called and said it was OK to come back to our homes. Thankfully, the fire crews did a spectacular job safely containing the fires. There was no fire or smoke damage to our home or my studio and we were able to clean the fire retardant off of our house.
With the main fires out I walked into the woods to shoot photos of the remaining smoke, the remnant flames, and the remaining firefighters making sure everything remained under control.
After this expeirence I was ready for a prescribed burn of our property.
Shooting the burn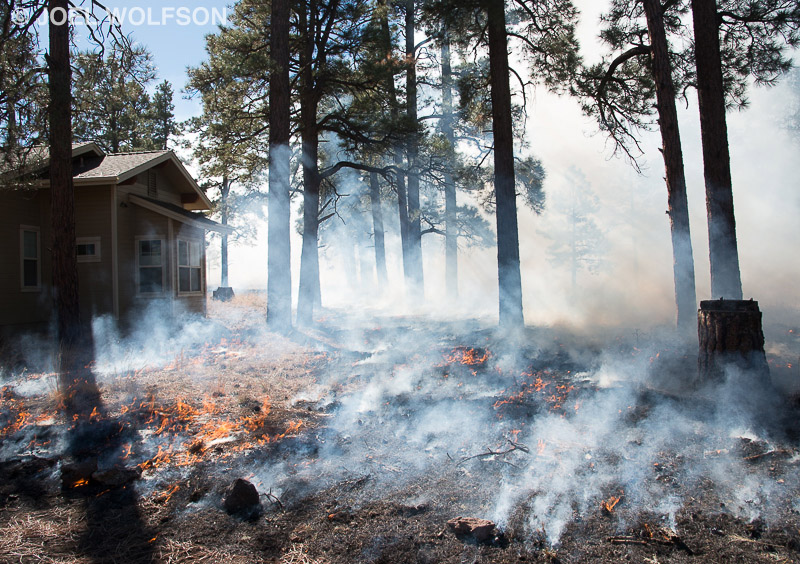 I knew I wanted to shoot this and tell the story. Although I asked lots of questions about it of my wife, the Burn Boss, and some of the crew, I didn't fully know what to expect in terms of photo opportunities. I knew I would have to be able to move quickly during the burn so I didn't want to be laden with too much gear and using a tripod was likely going to be out of the question. I made sure to cover my bases with my full frame rig (Nikon D800E and Nikkor 24-120), and a micro 4/3 for video and backup stills (Olympus OMD E-M1) along with my infrared body, also a Micro 4/3 (My old GH2 with Infrared modification), and an Olympus 12-40 f2.8 lens. I kept all 3 cameras on straps around my shoulders and neck so all were accessible. I also had a compact camera (Sony RX100 III) in my pocket. With all but the Nikon rig being compact and lightweight I was fairly unencumbered and able to move quickly.
I was blown away by what unfolded during the burn, in a good way.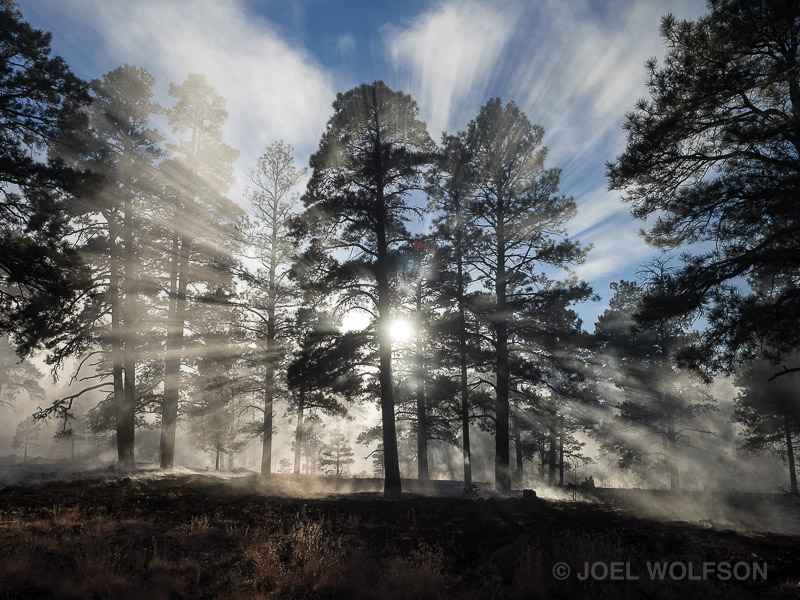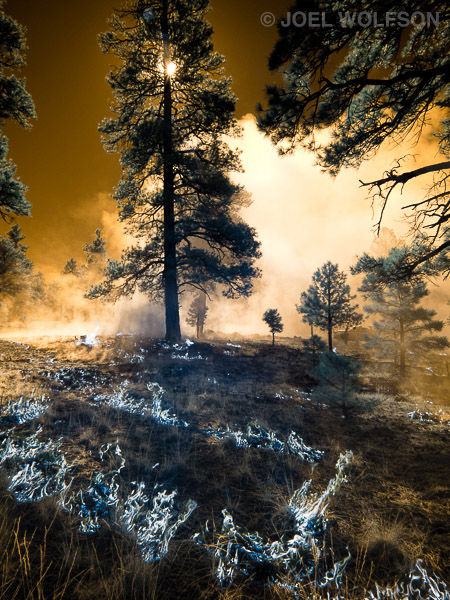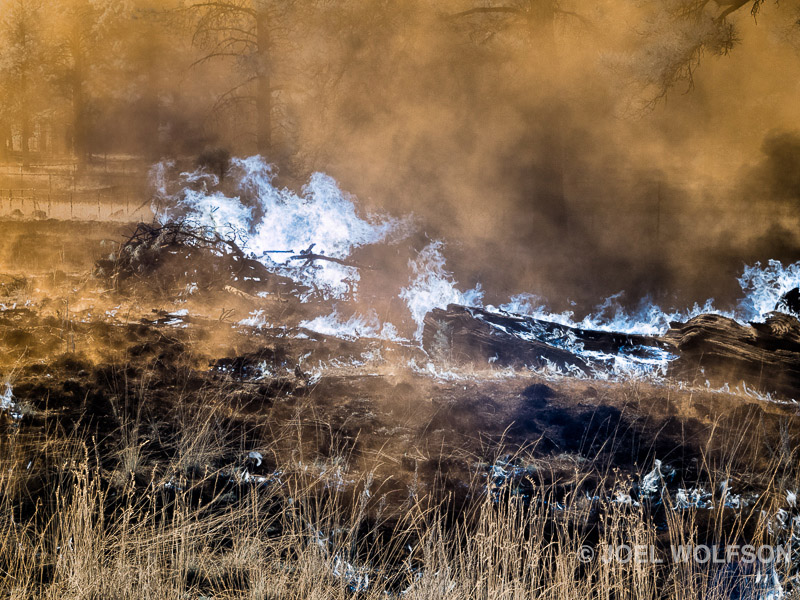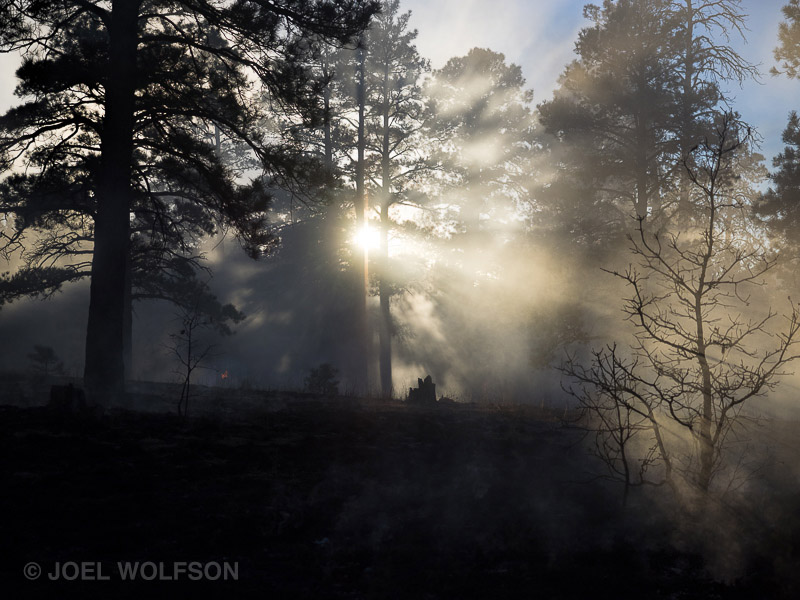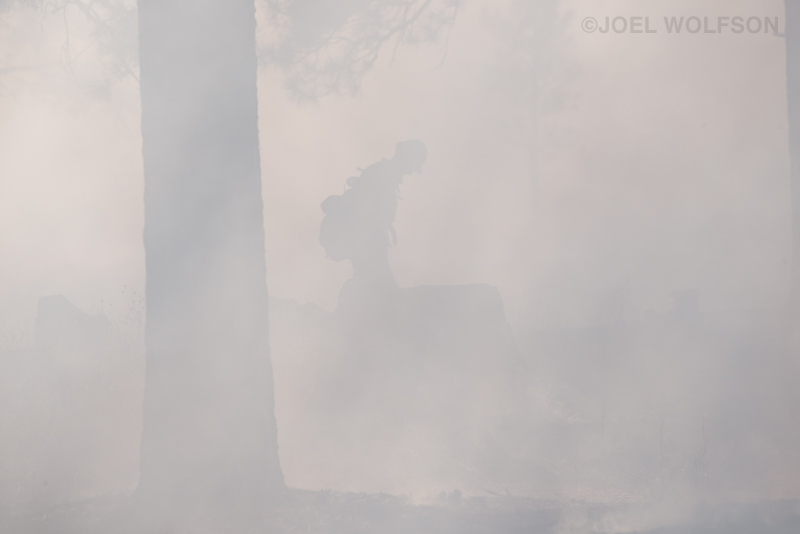 There happened to be a dense air mass that day that kept smoke close to the ground. Combined with the blue skies, trees, and the sun, it made for unique and magnificent lighting and wonderful effects from the smoke. I couldn't have dreamed up anything like this. There were nature shots, firefighters, vehicles, all in a dreamscape. I wanted to be everywhere at once. Then when night fell I had another set of opportunities.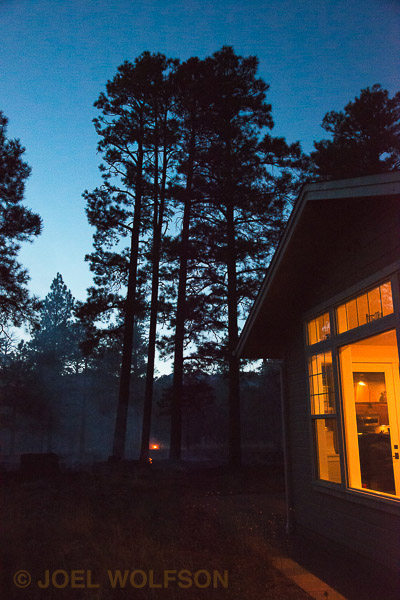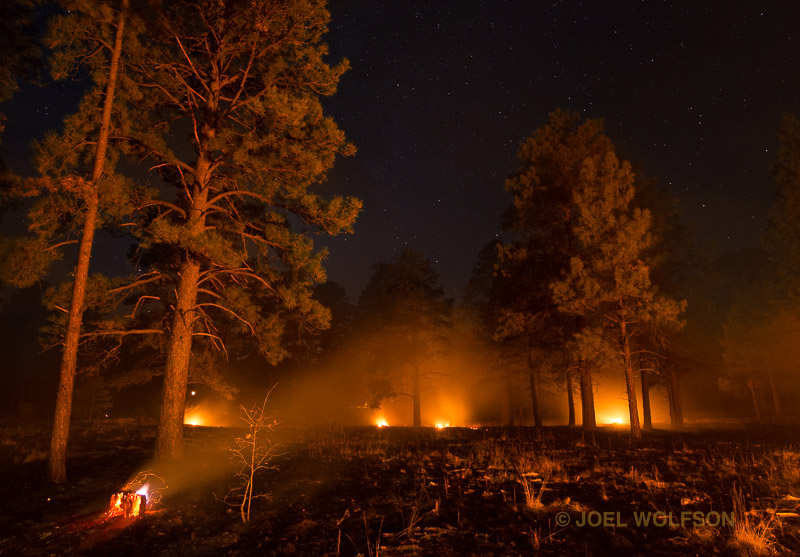 The next morning, amidst the smoldering charred ground that used to be my yard, I looked at my wife, the fire ecologist, and said "Wow, that's a whole lot of black" She assured me that not only would green grass and flowers return but we'd have a much healthier forest with less potential fire hazard on our property. Then my longer term project began: After the fire was out I ended up shooting all the blackness, then little green sprouts coming up through the ash and charred ground, the contrast of snow and blackened tree trunks, and the elk coming around for the nutrient rich regrowth. I ended up shooting this story through all four seasons spanning a year.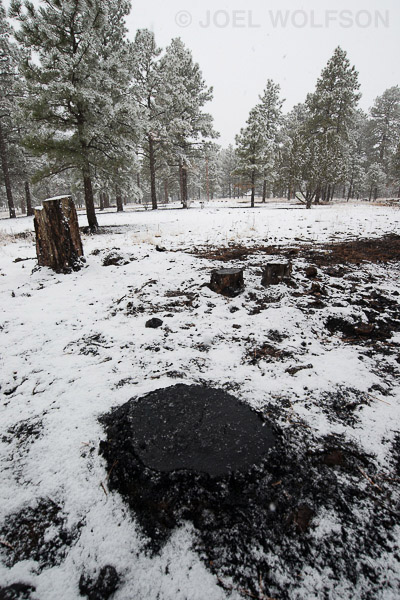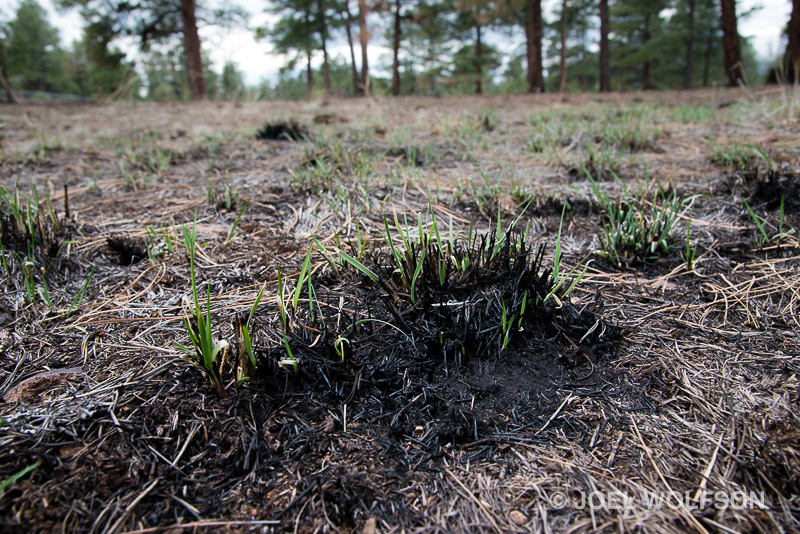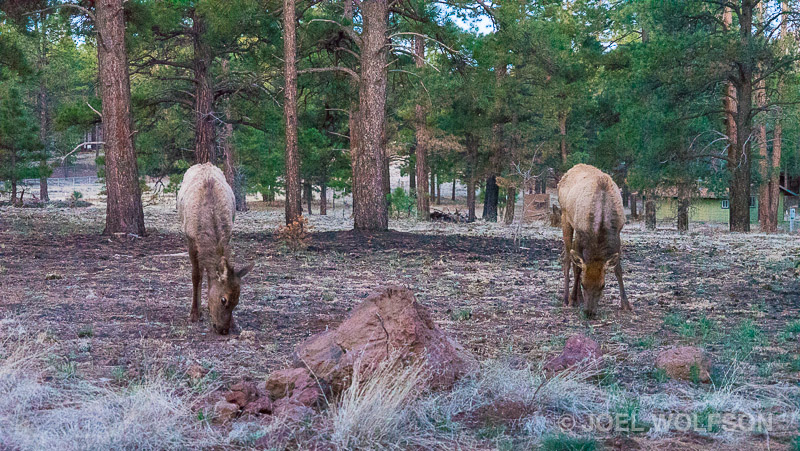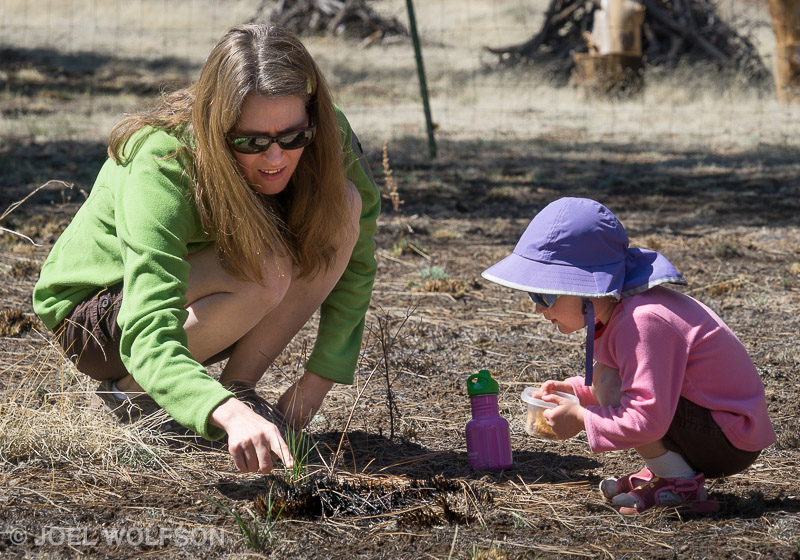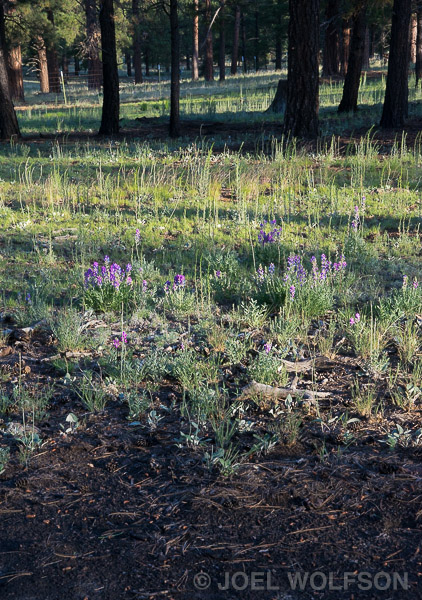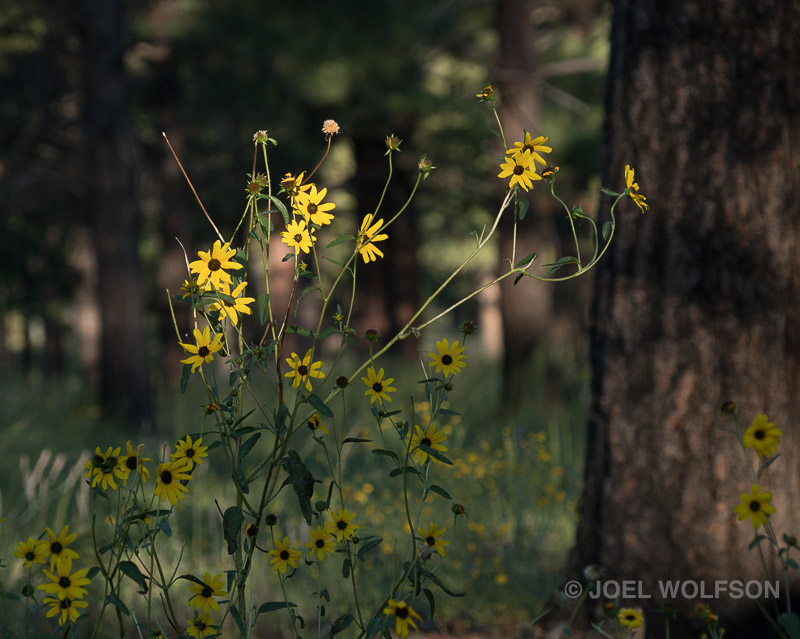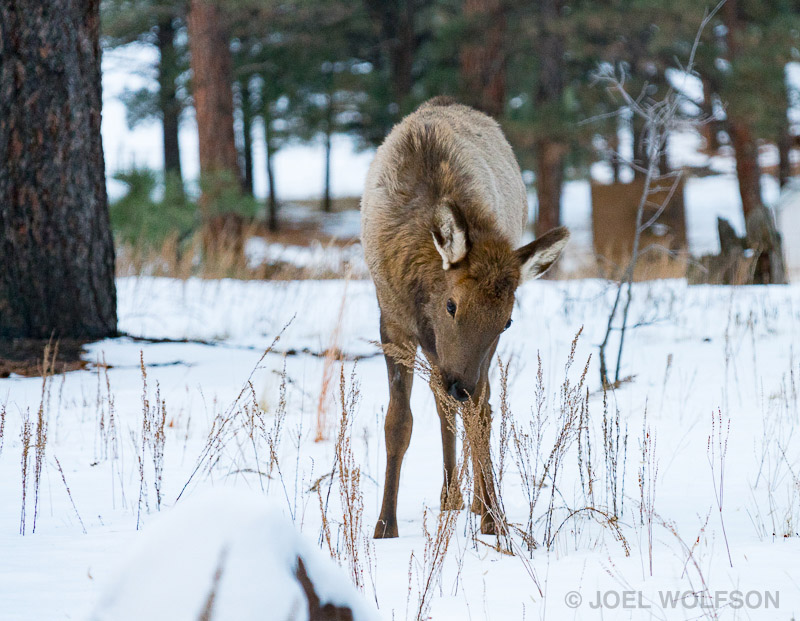 Rare opportunity
I'm not a wildland fire specialist but I was able to take advantage of a rare occasion as a photographer: The weather on the particular day we did the burn, a controlled environment with a fire crew and their equipment at hand, and a beautiful day in the forest, all came together for some amazing opportunities and an ensuing story with many photographic rewards.
---

---
Joel Wolfson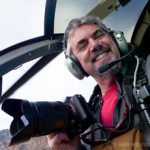 is an internationally published photographer who loves teaching as much as shooting. He shares his 30 years of experience as a working pro with other photographers and enthusiasts by way of his workshops, 1 on 1 training, webinars, articles, blog and speaking engagements. His technical articles have been translated for use in more than 30 countries yet he is best known for his artistic images of nature's fleeting moments and unexpected views of everyday places around the globe. He is one of the pioneers of digital photography having conducted digital photography seminars for Apple and other corporations starting in the early 90s. His roster of notable clients includes numerous publications and fortune 500 companies. He currently works with great affiliates like Arizona Highways, Topaz Labs, ON1, and Skylum to have more avenues for working with those wanting to pursue their love of photography. His goal is to make learning and improving one's photography easy, fun and rewarding.
Disclosure about product links and affiliations: Some of the links I provide are affiliate links which means I get a small commission, with no additional cost to you, if you click it and end up buying something. It helps keep the lights on as well as supporting this blog and my other free educational resources and articles. So if you use them, thanks! It is always my goal to report my results in a straighforward manner whether or not it favors a particular product.